Ferguson police chief quits after federal report into Michael Brown shooting
Comments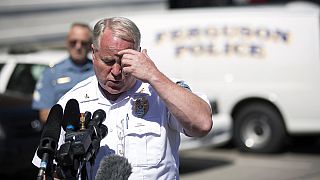 The police chief of Ferguson, Missouri has become the latest official to resign following last year's fatal shooting of the unarmed black teenager Michael Brown.
His going follows a scathing federal report which found widespread racial bias in the local police force.
Specifically it accused officers of violating constitutional rights and disproportionately targeting blacks.
A recorded apology from Thomas Jackson was shown after the city's mayor announced the police chief's resignation:
" I am truly sorry for the death of your son. I am also sorry it took so long to remove Michael from the street. The time that it took involved very important work on the part of investigators who were trying to collect evidence…..but it was just too long."
Thomas Jackson had resisted calls from protesters and some state leaders to step down after the August 9 shooting and the weeks of demonstrations and riots that followed.
A Grand Jury and the US Justice department found that the officer who shot Brown, Darren Wilson did not break any laws by his actions.
Jackson's resignation which will be effective from March 19 but questions remain over the future of the city's police department in which only four of Ferguson's 54 officers are black.