Nepal earthquake: Kathmandu's Bir Hospital full to overflowing
Comments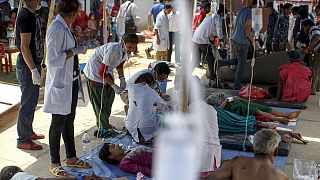 Kathmandu's Bir Hospital is full to overflowing following Saturday's (April 25) deadly earthquake.
Reports suggest between 7,000 and 8,000 people have suffered 'quake-related injuries.
Patients can be seen in beds in the corridors, due to a lack of space on wards. Others are lying on blankets on the floor.
At least 16 countries have sent aid, some of which has begun to arrive in the Nepali capital.
But although international assistance has been sent, aftershocks and the scale of damage throughout the country are slowing down its transportation.
Water, food and power are scarce nationwide, while the influx of people at the hospital means there are few free beds.
Doctors are working round the clock to provide the best care possible under the circumstances.
A group of foreign medics flew in to the capital to assist, but authorities say they are struggling to deliver aid to more remote areas.
#NepalEarthquake: UNICEF worker talks w/a doctor at a #Kathmandu hospital about needs & challenges; via @unicef_nepalpic.twitter.com/Y38bQk2zb6

— UNICEF USA (@unicefusa) April 27, 2015
​