LA firefighters battle to safe luxury homes from wildfires
Comments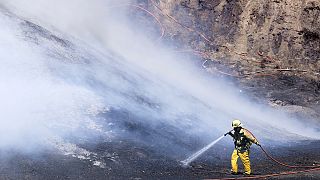 Around 200 firefighters backed up by water- dropping helicopters have been batting a wildfire in the Los Angeles foothill community of Granada Hills
The LA fire department said 10 homes were under threat and residents had been evacuated.
There have been no immediate reports of injury or damage to nearby luxury homes as fire crews struggled with the wind-driven flames as they burned a nearby canyon and throwing smoke over Los Angeles.
California is suffering its fourth year of a devastating drought.