Indonesia: Family say last farewells to Australian drug smugglers before executions
Comments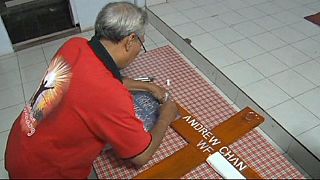 Amid chaotic scenes, relatives have paid a last visit to a top security jail in Indonesia to say their final farewells to two Australian drug smugglers due to be executed within hours.
One family member collapsed amid the scrum, with no doubt now that death row inmates Andrew Chan and Myuran Sukumaran are about to face the firing squad.
Andrew Chan and Myuran Sukumaran count down their final hours. @JayneAzzohttp://t.co/xkdumHOpU5#Bali9#9Newspic.twitter.com/PZ5khYgZbW

— Nine News Australia (@9NewsAUS) April 28, 2015
The death penalties imposed on eight foreigners and an Indonesian have been condemned by the UN and strained ties between neighbours Australia and Indonesia.
But as ambulances began arriving at the Nusakambangan island jail, Jakarta looked firmer than ever in its rejection of international pleas for clemency.
The execution of a French national has been delayed pending appeal.
But for the others, coffins and crosses have been prepared bearing their names and date of death, as April 29, 2015.
In their final hours, Myuran Sukumaran and Andrew Chan are keeping hope alive. http://t.co/srPlvx1rSbpic.twitter.com/bJcVCf9Vv5

— The Australian (@australian) April 27, 2015
Security at the prison was heightened and religious counsellors, doctors and the firing squad were alerted to start final preparations for the execution of the four Nigerians, two Australians, an Indonesian, a Brazilian and a Filipina.
Indonesian authorities have declined to specify a time for the executions, due to take place at a nearby clearing in a forest.
But Sukumaran's mother said her son would be put in front of the firing squad at midnight.
"They're going to take him at midnight and shoot him. I'm asking the government not to kill him. Please don't kill him today," Raji Sukumaran told reporters after visiting her son for the last time in prison.
The prisoners will be given the choice to stand, kneel or sit before the firing squad, and to be blindfolded. Their hands and feet are tied.
Twelve marksmen are assigned to fire at the heart of each prisoner, but only three have live ammunition. Authorities say this is so that the executioner remains unidentified.
Authorities on Monday granted Chan's last wish, which was to marry his Indonesian girlfriend Febyanti. A small group of family and friends attended the ceremony in his prison cell.
Adding to the tensions, a religious counsellor who has known the Australian men for years said he was refused permission on Tuesday to visit the pair in their final hours.
[You Question] Should the European Union impose sanctions on Indonesia over the country's use of the death penalty? ❏ Yes ❏ No ❏ I don't know

Posted by euronews on Tuesday, 28 April 2015