Nepal quake: emergency workers begin delivering aid to remote areas
Comments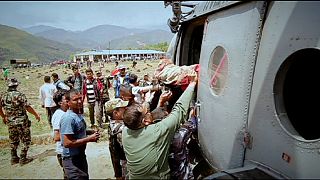 More than 48 hours after Nepal's deadly earthquake, aid workers are starting to reach remote areas outside Kathmandu.
An Indian team has flown in by helicopter to deliver rice and water to Trishuli Bazar north-west of the capital. They have also been airlifting the injured, including children.
Meanwhile, the European Commission has announced three million euros in emergency aid for Nepal.
"Today we had an emergency meeting with the various stakeholders: member states, but also international partners, the UN, neighbouring countries and the European Commission," said
Catherine Ray, EU foreign policy spokeswoman.
"We're looking at whether the needs will increase and how we'll respond if they do."
It is clear Nepal's international plea for help is being answered. Rescue teams continue to arrive in the country. French, Spanish and Chinese workers are among them.
The challenge ahead of the teams is huge, with the scale of the disaster continuing to unfold.