Greek Cypriots welcome election of Turkish Cypriot leader
Comments
By
Euronews
with
Stamatis Giannisis, Reuters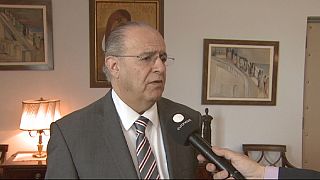 The vibe in Cyprus is positive following the election of moderate Turkish Cypriot leader Mustafa Akinci.
Akinci has been welcomed on both sides of the island. President of Cyprus, Nicos Anastasiades, took to Twitter to announce his hopes for fresh reunification talks.
The selection of MustafaAkinci_1</a> is a hopeful development for our common homeland. I look forward to have a meeting with him <a href="https://twitter.com/hashtag/Cyprus?src=hash">#Cyprus</a></p>&mdash; Nicos Anastasiades (AnastasiadesCY) April 26, 2015
The head of the Greek Cypriot community and his government will be looking for Akinci's cooperation as the discussions restart in May 2015, after a six-month hiatus.
Ioannis Kassoulides, Foreign Minister of Cyprus, spoke to euronews:
"Turkey should allow Mr Akinci to engage in honest negotiations with us so we can reach an agreement that will fulfill the expectations of both the Greek Cypriot and Turkish Cypriot communities alike and calm the anxieties on both sides," he said.
Political analyst, Kostas Gennaris, pointed out some of the practicalities involved in a deal.
"Mr Akinsi favours a solution, a practical solution, that will unify this land and its people. But the devil is in the detail – that's where the solution will lie," he told euronews.
Only Turkey recognises the self-declared Turkish Republic of Northern Cyprus.
Cyprus is represented internationally and in the EU by the Greek Cypriot government, which controls the southern portion of the island.
Our correspondent, Stamatis Giannisis, sent this report from the capital, Nicosia:
"The result has pleased the Greek Cypriot side as it feels that, by voting out hardliner Dervis Eroglu, the Turkish Cypriots have demonstrated they want a leader who is eager to seek a political solution for the reunification of the island."