Paula Radcliffe bids farewell in emotional London Marathon
Comments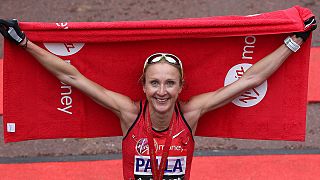 [UPDATE-1] Women's world record holder Paula Radcliffe made her final appearance in a competitive race at the London Marathon on Sunday.
The 41-year-old Briton, who has won the women's race three times, was willed on to an emotional finish by thousands of spectators who had lined the streets to witness her final race.
Radcliffe chose not to compete with the elite athletes as in previous years, but still finished with a respectable time of 2:36.55, a time inside the qualifying standard for next year's Rio Olympics.
"Down the last mile I thought, 'I don't care about the time'. I just wanted to thank as many people as I could," she said to the BBC after crossing the line. "You can't come and not give an honest effort.
"But I went off too fast – from then on it got more and more emotional. There was a big sign at Embankment saying 'we will miss you', but it won't be as much as I will miss you.
"It was so loud, my ears were ringing. It was just amazing the whole way round. All the way along, there were so many people giving me encouragement."
During her career, Radcliffe claimed a hat trick of titles in London and New York, and gold at the world championships and the world cross-country championships.
She also took a hat-trick of titles at the London and New York marathons.
Injury and illness, however, hampered her efforts to add Olympic glory, and indeed her very appearance at the marathon was in doubt after she injured her Achilles in the build up to the race.
"I came into this race totally unprepared and hoped the magic of the London Marathon would help me and I'm sure it did," Radcliffe said of her decision to start with the 38,000 club runners.
"It's something about London. I nearly lost it at Birdcage Walk but the crowds bowled me over, I wanted it to last forever. It was so special, I'm really going to miss it."
Elsewhere, Kenyan Eliud Kipchoge finished in 2:04.42 to win the men's race, while compatriot Wilson Kipsang came second 0.05 seconds later. Dennis Kimetto completed the podium with a 2:05.50.
Ethiopia's Tigist Tufa won the women's race in a time of 2:23.22 while Kenya's Mary Keitany finished in second in a time of 2:23.40 and Ethiopia's Tirfi Tsegaye finished third with a 2:23.41.