Growing need for international help for Nepal quake victims
Comments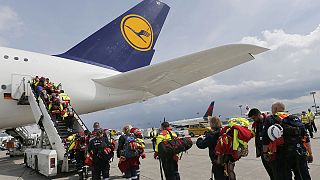 The need for international help for Nepal quake victims is growing, with tens of thousands of people facing difficult conditions.
People were grabbing each other ... and once it finished there was floods of people just running to open spaces
Many have been forced from damaged buildings, others are too scared to be inside in case of further tremors.
Megan Butler, an Australian education instructor camping outdoors, told reporters: "It took everyone by surprise and people flooded out of the shops, the street was filled, people were grabbing each other and then everyone waited for it to finish, and once it finished there was just floods of people just running to open spaces."
Food and water and medical supplies are being flown in from various countries.
Rescue teams with sniffer dogs from nations including the US and China have also started to arrive.
But as the aid is flown in, many foreign nationals are desperate to leave, queuing up at the main airports hoping for flights.
The priority at the moment though is help for the survivors.
Offers of help for Nepal are coming in from around the world.
Rescue teams in Los Angeles have left for Kathmandu with specialist equipment.
It is a race against the clock to reach those who may still be alive beneath the rubble.
Los Angeles County Fire Department Chief John Tripp told reporters: "Our main mission – and we're committed to this mission because we live in earthquake country – is that we find people in collapsed buildings and we try to rescue them, and then lend aid to them."
Rescue teams from China have also left Beijing bound for Nepal.
They are taking specialist equipment, as well as sniffer dogs trained in finding survivors.
Checks for casualties and damage continue to be carried out in neighbouring countries, including China, India and Bangladesh, which also felt the quake and aftershocks.
#Russia to Send Rescuers to Nepal Earthquake Site, Everest Climbers Alive and Well http://t.co/pWDvQGyH9D#news

— The Moscow Times (@MoscowTimes) April 26, 2015
Rescuers dig out survivor of Nepal earthquake. Hundreds are dead. Latest update: http://t.co/qfbKgvWKZ8pic.twitter.com/Oh4Kq14FUe

— Jim Roberts (@nycjim) April 25, 2015
The history of earthquakes in the Himalayas http://t.co/5VNRGhxUzXpic.twitter.com/hYg4ykvj3Q

— The Independent (@Independent) April 26, 2015