Moving ceremonies to mark centenary of the Gallipoli campaign
Comments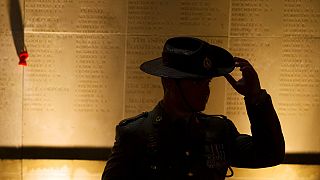 We will never forget them – the message expressed by many at ceremonies in Gallipoli to mark the 100th anniversary of one of the bloodiest battles of World War One.
Their bravery and unity would help to forge the ANZAC bond and reputation that endures to this day.
Tributes were led by leaders and VIPs from the various countries where the Allied soldiers came from.
The forces included Australians, New Zealanders Gurkhas, Britons, French, the Irish, Indians and Canadians.
The fighting in Gallipoli claimed more than 130,000 lives, 87,000 of them on the Ottoman side.
For Turkey, Gallipoli heralded the rise of the young officer Mustafa Kemal Ataturk, who went on to become the founder of modern Turkey.
Ceremonies have been held for the Ottoman Turkish 57th Regiment, which was virtually wiped out during the battle.
There was also a dawn service, with crowds of Australians and New Zealanders attending this year.
Thousands of ANZAC soldiers from the Australian and New Zealand Army Corps were among the first to land in 1915, but were gunned down as they struggled to come ashore on a narrow beach.
The Australian Prime Minister Tony Abbott and the New Zealand Prime Minister John Key led tributes.
Britain's Prince Charles and his son Prince Harry were also present.
About 11,500 Australian and New Zealand troops died in the battle and it was the first time they fought under their own flags.
There was a performance by Maori singers at today's dawn service and an Australian didgeridoo wind instrument was played.
Tony Abbott told the crowds: "Ordinary men did extraordinary things. They lived with death and dined with disease because that was where their duty lay.
"In volunteering to serve, they became more than soldiers, they became the founding heroes of modern Australia."
John Key said: "Both sides were doing what they believed was right and what they believed was necessary.
"There was something else that the ANZAC troops landing here at Gallipoli did not know as they first struggled on to this foreign soil – it was that their bravery and unity would help to forge the ANZAC bond and reputation that endures to this day.
"I salute that, as I do the troops that opposed them and all that fought on the peninsula."
Commemorative events for the first Gallipoli landings have also been held in Australia and New Zealand.
Some 200,000 people turned out for a parade in central Sydney, and thousands turned out for dawn services in New Zealand.
Turkish President at Gallipoli: "As for turning common pain into a tool for friendship, peace and love and not generating new animosity, I want Canakkale to serve as an example for all nations" …

Posted by euronews on Friday, 24 April 2015
Australia PM hails Gallipoli soldiers on Anzac Day http://t.co/wjfmt2mmiDpic.twitter.com/kEj2A10Y4C

— Agence France-Presse (@AFP) April 25, 2015
An estimated 250,000 people turn out for #AnzacDay march through Sydney. http://t.co/roh80EpG1G

— smh.com.au (@smh) April 25, 2015
Is the Anzac legend relevant to an increasingly multicultural Australia and New Zealand? http://t.co/aRC9uIkVEspic.twitter.com/RezRWigDRb

— Financial Times (@FT) April 25, 2015
Are you commemorating #Gallipoli100? Share your stories and photos with us #anzacdayhttp://t.co/jvS3defmVOpic.twitter.com/CdExu0MIGd

— The Guardian (@guardian) April 25, 2015