Friendship and reconciliation replace conflict at Gallipoli centenary
Comments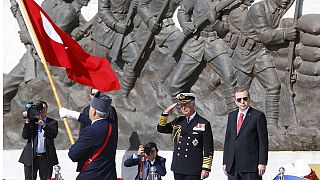 A century on, reconciliation and friendship replaced conflict at Gallipoli in Turkey – the scene of one of the bloodiest battles of the First World War.
Marking the centenary of the ill-fated Allied campaign at the peninsula, Turkish President Recep Tayyip Erdogan stood alongside Britain's Princes Charles and Harry on Friday to honour the dead.
In 1915 their countries were on opposite sides of the confrontation that claimed more than 130,000 lives.
At the British Memorial, a ceremony remembered Allied soldiers.
"These men had come from all parts of the British world – Africa, Australia, Canada, India, the mother country, New Zealand and remote islands in the sea," Prince Charles said in a speech.
"They had said goodbye to home so they might offer their lives for the cause we stand for."
At Gallipoli in 1915, Allied troops battled to defeat Turkish forces of the then Ottoman Empire. They foundered amid fierce Turkish resistance – at huge human cost on both sides.
At the main Turkish memorial marking what the country calls the Canakkale War, President Erdogan stressed the power of reconciliation.
"As for turning common pain into a tool for friendship, peace and love and not generating new animosity, I want Canakkale to serve as an example for all nations," he said.
"We are ready to cooperate to turn this century into a century of peace."
More ceremonies this Saturday will mark Anzac Day – exactly 100 years since soldiers from the Australian and New Zealand Army Corps struggled ashore at Gallipoli, fighting under their own flags for the first time.