Saudi-led airstrikes halted in Yemen, replaced with operation "restoring hope"
Comments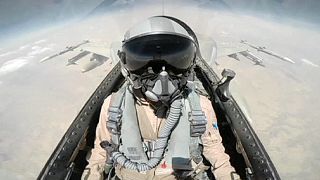 Saudi Arabia has announced an end to its military campaign in Yemen.
After almost a month of airstrikes, Riyadh claims nearly all of the military capabilities of Houthi rebels, allied with Iran, have been destroyed.
However, Saudi Arabia says it will continue to target the Houthis if they are spotted undertaking any operations.
Saudi military spokesman Brigadier General Ahmad Asiri said: "The main goals of the operation have been achieved as well as the objectives on the ground.
"Legitimacy has been protected and the Yemeni people are now not in danger as before."
Just hours earlier at least 40 people were reported to have died in numerous airstrikes.
Most of the victims were civilians, according to health workers.
Dozens more were wounded.
While the Saudi-led airstrikes may be stopping, fighting between rival militias continues unabated.
Fighters loyal to the exiled president Abd Rabbu Mansour Hadi have been locked in battle with Houthi forces and other supporters of ex-president Ali Abdullah Saleh.
Amid reports that a ceasefire or political deal could be on the cards, the US boosted its presence in the region, sending an aircraft carrier and a guided missile cruiser to waters near Yemen.
U.S. warships continue to shadow Iranian convoy off the coast of Yemen. JimMiklaszewski</a> reports now <a href="https://twitter.com/hashtag/NBCNightlyNews?src=hash">#NBCNightlyNews</a> <a href="http://t.co/wofGh3i4ql">pic.twitter.com/wofGh3i4ql</a></p>&mdash; NBC Nightly News (NBCNightlyNews) April 21, 2015
WHO warns of imminent collapse of health care services in #Yemenhttp://t.co/kjiUVBnYuEpic.twitter.com/6ZDotvf2sH

—

WHO

(@WHO) April 21, 2015
The war in Yemen: Is there a way out of the conflict? http://t.co/4YMqdJHGEPpic.twitter.com/1APzkZzlCk

— The Economist (@TheEconomist) April 21, 2015
#PhotooftheWeek: A group of boys & man watch a rooster land on rubble from a destroyed building near Sana'a, #Yemenpic.twitter.com/5u3vGgkY69

—

UNICEF

(@UNICEF) April 21, 2015