Greece: Golden Dawn trial adjourned amid high tension
Comments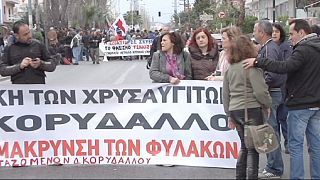 Anti-fascist activists were out in force as the mass trial began on Monday of leaders and members of Greece's far-right Golden Dawn party – branded a neo-Nazi organisation by critics.
Disturbances were reported as party supporters also gathered outside the top security jail near Athens where 69 defendants faced charges including belonging to a criminal group and murder.
That charge follows the 2013 killing of an anti-racism rapper whose mother was among relatives present in the prison courthouse.
"No matter what people's political views or links to government, we want them punished if they have committed a crime," said Greek Muslim community leader Naim Elgkantour.
"Just like if I commit a crime, I should be punished."
But defence lawyer Evangelos Galetzas raised questions about the trial's legitimacy, with separate cases lumped together including the murder charge over the death of rapper Pavlos Fyssas, who was stabbed in the street in 2013.
In the event, the hearing was swiftly adjourned until May 7.
Golden Dawn leader Nikos Mihaloliakos and the party's senior officials were absent from the hearing and represented by their lawyers.
The defendants include all 18 MPs elected with Golden Dawn in the previous Greek parliament. The politicians deny the charges.
Golden Dawn, whose black-and-red emblem resembles a swastika, rejects the neo-Nazi label. It has strongly denied involvement in Fyssas's killing. It says the defendants are victims of a political witch-hunt.
Despite accusations of brutality and violence, the party's appeal has remained largely intact. It remains popular and is the joint third largest party in the Greek parliament after January's election.
Our correspondent in Athens, Tsellos Konstantinos, said:
"For the first time in recent Greek history, the entire leadership of a parliamentary party is on trial. Golden Dawn still gets significant support from voters and the outcome of the hearing may cause turmoil on the political landscape."