Finland's new PM appeals for unity after ruling party overthrown
Comments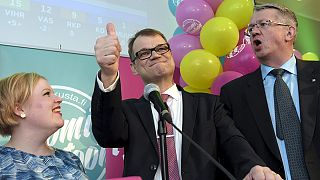 Finland's parliamentary elections have now been decided. with Centre leader Juha Sipilä's party taking 49 seats from a total of 200. He's pledged to create 200,000 jobs over the next 10 years. The millionaire and former IT executive will now lead coalition negotiations. Perhaps as an indication that he has some work ahead of him, he said:
"In this situation, I would like to appeal to all Finns to put our country's interests before our own."
With a strong showing for second place, the right wing populist Finns party took 38 seats in parliament. Finns leader Timo Soini declared that his party was "here to stay" after two impressive back-to-back results.
But with 37 seats and 18.2% of the vote, there was no room for outgoing Prime Minister Alexander Stubb, who conceded early defeat.
With unemployment now at 9.2% and 2014 marked by recession and stagnation, he hands the reins over at an uncertain economic time for Finland.
How to read Finnish male politicians (from top left): Sipilä, happy Soini, happy Stubb, grumpy Rinne, grumpy pic.twitter.com/fNSJ4LbbzP

— Annamari Sipilä (@AnnamariSipila) April 19, 2015