24 hours in Yemen: Houthi leader speaks, air strikes and appeals for aid
Comments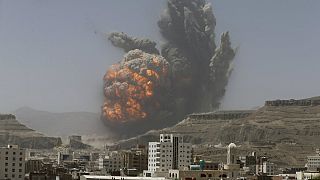 Abdul-Malek al-Houthi has made his first public speech since Saudi-led airstrikes began over Yemen on March 26, 2015.
Humanitarian access to most of the people in need of basic support remains too difficult because of the conflict.
He leads the rebel group currently in control of around two thirds of the country, including the capital Sana'a.
Cracks seemed to be appearing in the alliance with Ali Abdullah Saleh, the country's former president.
In his speech, Al-Houthi rejected efforts by the United Nations to broker a ceasefire in Yemen, in direct contrast with calls made by Saleh's party.
The Houthi leader also swore not to back down in the face of air strikes, despite the destruction reports suggest they are causing.
Local residents say an aerial assault on a missile base in the capital on Monday (April 20) caused the largest explosion since the campaign began.
Air strike on missile base in #Yemen capital causes huge explosion http://t.co/RuA1yBih30pic.twitter.com/a3RCuZ0X1H

— Pedro da Costa (@pdacosta) April 20, 2015
Pro-government forces loyal to current president, Abd Rabbo Mansour Hadi, say the strikes are targetting Houthi strongholds. However, aid agency OXFAM says one of its stores containing humanitarian supplies in militia territory was also hit,
This picture shows our warehouse in #Yemen, full of humanitarian aid, after being destroyed by a coalition airstrike pic.twitter.com/98rfzLQCBS

— Oxfam (@oxfamgb) April 20, 2015
In apparent contradiction to OXFAM's claim, Saudi Arabia had agreed to co-fund a multi-million euro appeal for emergency aid, to prevent a humanitarian disaster inside Yemen.
The attacks have taken their toll on the local people. In Sana'a many civilians, including children, are being treated for burn wounds. However, the UN says they are in dire need of medical supplies, clean drinking water, food assistance, emergency shelter and logistical support.
"The current escalation in violence is placing increased pressure on the lives of more than 16 million Yemeni who already need aid," said Grace Ommer, the NGO's country director for Yemen.
"But humanitarian access to most of the people in need of basic support remains too difficult because of the conflict," she added.