Opposition leader Juha Sipila wins elections in Finland
Comments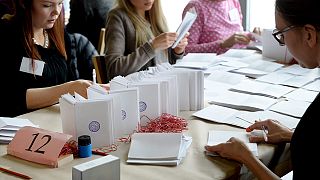 There is a changing of the guard in Finland, with the opposition Centre Party led by Juha Sipila the winner of elections on Sunday.
A coalition will be needed, however, with Sipila not winning enough votes to govern alone.
Opinion polls suggested that Sipila could become prime minister of a coalition including Eurosceptic nationalists.
He will replace Alexander Stubb, who has led a broad pro-European and pro-NATO coalition government.
Sipila says he is open to including the Finns Party, led by Timo Soini, who opposes bailouts and wants Greece to leave the eurozone.
Much of the campaign has been focused on voter dissatisfaction over what is being done to revive the economy.
One local resident told reporters:
"The first priority should be to stop taking more debt, and do some savings, and make sure we will have work, and that it's profitable for people to work and not stay home or be unemployed."
Recent opinion polls showed the opposition Centre Party leading by at least seven percentage points.
Experts say coalition talks might not be straightforward, however, and could take several weeks.