Paris warehouse fire still raging
Comments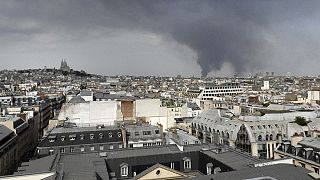 Firefighters are still battling a warehouse fire outside Paris that has been raging since Friday afternoon. Roads and train lines were closed for hours, leading to huge delays north of the capital, but reopened late on Saturday morning.
The blaze started at around 1400 on Friday at a textile and shoe warehouse in the suburb of La Coureneuve. Fifty firefighters and dozens of fire trucks have manage to extinguish the main blaze but smaller, hard-to-reach fires are still burning beneath the rubble.
Traffic in the area came to a standstill after the main A86 highway was closed because of smoke drifting across the area.
One man sitting in traffic said he'd been stuck for more than an hour: "I've been trying to use my GPS to go out of this traffic jam but it's impossible," he said.
The cause of the fire is still unknown but no injuries have been reported.
The fire service said it had been inundated with calls reporting the smell of smoke as far away as the centre of Paris.