Bach promises to personally present Kosovo its first Olympic medal
Comments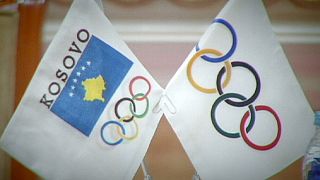 Youngest International Olympic Committee member state Kosovo got a first visit from the
president, Thomas Bach, on Saturday.
The IOC gave the former Serbian province full recognition in December, and Bach's visit came on the back of a stopover there in a bid to improve relations.
He looks forward to Kosovo taking full part in the Olympic movement.
"We could do this recognition now by using the autonomy of international sports and the IOC is recognised by the United Nations and that we are well in advanced of politics in this respect," he said.
Bach said he would personally hang Kosovo's first medal around its winner's neck.
Most observers reckon that the tiny nation's best chance of honours lie in Majlinda Kelmendi's hands, the young under 52-kilo Judoka who is the 2013 world champion and who had to appear for Albania at the 2012 London Olympics.