Investigators comb new field of Malaysia Airlines MH17 debris
Comments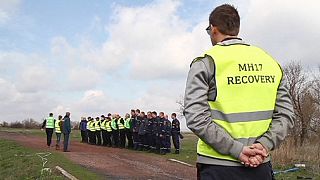 Nine months after Malaysia Airlines flight MH17 was shot down over eastern Ukraine, investigators have returned to the crash site, after gaining access to the area where the last unexamined wreckage lies.
Heavy fighting between Ukrainian government troops and pro-Russian rebels nearby had until now prevented the Dutch-led team from collecting evidence on part of the crash site.
Investigators hope to uncover the final remains of the 298 victims of the crash, most of whom were Dutch.
They also plan to bring back debris to the Netherlands to help uncover the cause of the crash.
Western governments believe the plane was shot down by Russian-backed forces, but Moscow has denied this and suggested instead that a Ukrainian fighter jet downed the flight.