Vienna: former Kazakhstan intelligence chief and bodyguard in court over banker deaths
Comments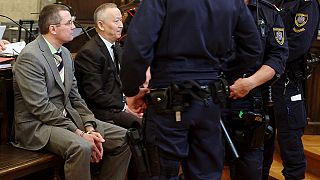 The former chief of Kazakhstan's intelligence service and a former bodyguard have appeared in court in Vienna, accused of aiding the abduction and murder of two bankers in 2007.
It is claimed Alnur Mussayev and Vadim Koshlyak followed the orders of Rakhat Aliyev, a previous Kazakh ambassador to Austria and former son-in-law of Kazakhstan's president.
Aliyev was found dead in a prison cell in Vienna earlier this year.
The bodies of the bankers, who were working for Nurbank, in which Aliyev was a major shareholder, were discovered in barrels in Kazakhstan in 2011.
More than 60 witnesses are expected to testify at the trial.