Nigeria's new president vows to make every effort to free schoolgirls abducted by Boko Haram
Comments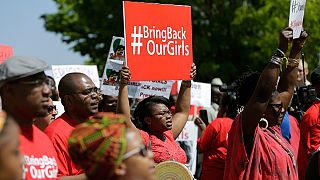 Nigeria's newly elected president, Muhammadu Buhari, is vowing to make every effort to free hundreds of girls abducted by Boko Haram militants.
A year after they were taken from a boarding school in Chibok, campaigners are taking to the streets to pile pressure on the government.
"When your voice is taken, you can't speak. You don't exist. But our girls exist," said campaigner Oby Ezekwesili, as she taped over her mouth.
Almost 300 schoolgirls were abducted last April. Dozens escaped, but 219 remain missing.
Led by Abubakar Shekau, Boko Haram is trying to establish an Islamic caliphate.
With help from Nigeria's neighbours,Niger, Cameroon and Chad, the militants have been forced to retreat from an area the size of Belgium in recent weeks.
Euronews reporter Luis Carballo has been embedded with troops fighting Boko Haram on the frontline.
"The joint operation, particularly Chad's involvement, is starting to change things on the ground," said Carballo.
Euronews was with troops as the village of Malam Fatori was liberated from Boko Haram.
The area was once home to 30-thousand people, but now resembles a ghost town. It is the scar of five months of strict Sharia law, imposed by the militants.
You can see more in our special report – Fighting Boko Haram – on euronews at 2035 CET on Tuesday 14 April 2015 and at euronews.com from 2100 CET.
euronews' Luis Carballo has been embedded with the army of Chad in its fight against one of the most barbaric and ruthless jihadist organisations in the world: the Nigerian group Boko Haram. Don't miss his exclusive report on Euronews TV at 20:35 CET on Tuesday, April 14 or watch on demand on euronews.com from 21:00 CET the same day.

Posted by euronews on lundi 13 avril 2015