Ministers meet in Berlin to try and preserve Ukraine's fragile truce
Comments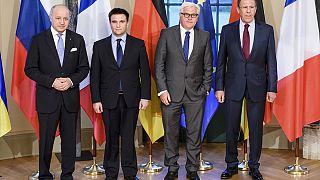 Foreign ministers from France Ukraine Germany and Russia have met in Berlin to try and preserve a fragile ceasefire in eastern Ukraine.
The Minsk peace deal was not only supposed to usher in a truce but it is also expected to provide a framework for a political solution.
But a recent flare up in fighting after a period of relative calm has raised concerns as Germany's foreign minister Frank-Walter Steinmeier explained:
"If this step by step process comes to a halt the implementation of the Minsk agreement will threaten to derail. But all sides have underlined tonight that they want to avoid that as all costs."
Sticking doggedly to a time line, ministers have agreed to push ahead with a withdrawal of heavy weapons extending it to tanks.
However before the meeting, Ukraine's military had accused pro-Russian rebels of using weapons that were meant to have already been pulled back.