Japan hopes to resume whaling at the end of the year
Comments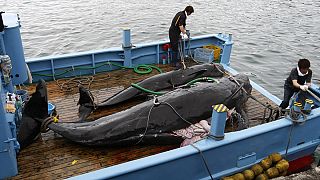 Japan says it hopes to resume its Arctic whale hunt at the end of the year despite opposition from an expert panel.
It says it hopes to win over The International Whaling Commission in its application to take 333 minke whales.
The IWC says its not convinced of the need for Japan to use lethal sampling as part of its its scientific whaling programme.
Japan has long maintained that most whale species are not endangered and that eating whale is part of its food culture.
Japan began what it calls scientific whaling in 1987, a year after an international whaling moratorium took effect. despite growing global opposition.