Hillary Clinton puts her gender centre stage, rivals say she's past it
Comments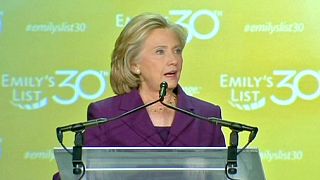 It has been almost a lifetime of preparation: the former First Lady's second run at the presidency caps decades in the front lines of politics.
Hillary Clinton addressed an audience gathered by fundraiser EMILY's List (the letters stand for 'Early Money Is Like Yeast'):
"I suppose it's only fair to say, 'don't you someday want to see a women president of the United States of America?'"
Clinton is once again the Democratic Party's highest hope, and for this her second presidential campaign she is flanked by former Obama advisors so that errors she made in 2008 are avoided.
Ex-Senator from the State of New York and 67th US Secretary of State, responsible for foreign affairs… the sort of name recognition that comes with might be hard to beat. But it can also serve as ammunition for the other side's candidates to use against the 67-year-old grandmother.
Such as: Republican Florida Senator Marco Rubio. He is one of them who likes to associate Clinton with yesterday's leadership. 'I'm new!' the 43-year-old suggests. Son of pre-revolution Cuban immigrants, Florida-born and bilingual, Rubio opposes Obama's foreign and social policy. But first Rubio backed the amnesty for the 11 million immigrants in the country illegally, then he backtracked, and that could cost him a lot of Hispanic votes.
Rand Paul, Senator from Kentucky, 52, has also moved closer to traditional Republican 'small government' positions, such as with a reversal recently proposing $190 billion be added to the defence budget. At the same time, even by Grand Old Party standards, Paul's ambition to balance the federal budget in just five years is seen as a tall order.
Texas Senator Ted Cruz, ultraconservative, is strong on rhetoric, less so as a credible eventual Republican Party presidential nominee. Also the son of a Cuban immigrant, at age 44, he's telling liberty-loving Christians, "I hope to earn your support," but many Americans remember how he helped bring the federal government to a halt in the autumn of 2013.
Those three have declared they want the nomination. The former Governor of Florida Jeb Bush hasn't come out and said so yet. 'Actively exploring' a run at the presidency is how the 62-year-old put it a few months ago.