Florida Senator Marco Rubio launches 2016 presidential bid
Comments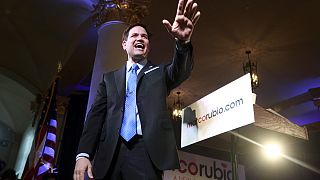 Florida Senator Marco Rubio has declared his intention to run in the 2016 US presidential race.
He is the third republican to announce his candidacy officially after Senators Rand Paul and Ted Cruz.
It comes a day after former Secretary of State Hillary Clinton said she would stand for the Democratic nomination.
"I chose to make this announcement at the Freedom Tower because it is truly a symbol of our nation's identity as a land of opportunity and I am more confident than ever that despite our troubles, we have it within our power to make our time another American century. That is why tonight, grounded by the lessons of our history but inspired by the promise of our future I announce my candidacy for President of the United States," said presidential hopeful Marco Rubio.
Forty-three year-old Rubio is a Cuban-American who has been a harsh critic of President Barack Obama's policies, especially on immigration and the diplomatic thaw with Havana.