Hillary Clinton's second run for presidency seeks more empathy
Comments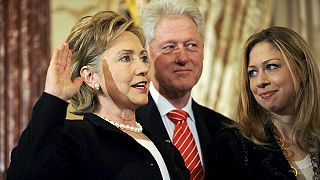 The last time Hillary Clinton presented herself as a candidate for the most powerful job in America critics complained she was stiff, lacked a unifying message, was arrogant and removed from voters — competent no doubt, but could she empathise?
She did show emotion when she conceded the party nomination to Obama; she lamented not having pierced that "highest glass ceiling". Yet even earlier, her remarks appeared to convey a depth of feeling talking to a women's group.
When probed over what her motivations were, Clinton's response could be interpreted as sensitive and inspiring patriotism: "This is very personal for me. It's not just political, it's not just public. I see what's happening. We have to reverse it."
Pundits suggest that Clinton's toughest task may be overcoming her own image.
As the top US diplomat for four years, it helps that her address book includes a who's who of high-level international politicians.
But even though she is far better known than most of her rivals, she still has to convince the American voters who already like her, and has to win over those who do not like her.
One prominent change in terminology is a shift away from saying "middle class" (Hillary advisers say that's lost its old ring of stability) in favour of "everyday Americans".
Political journalist Ken Thomas said: "Many of the people who are featured in the video are part of the Obama coalition that elected him twice. Latino voters, black voters, young voters, women and you really get this sense that Hillary is trying to resurrect that coalition."
Clinton, meanwhile, is still under congressional investigation for her response to the deadly attacks on the US consulate in Benghazi, Libya, in 2012. Additional controversy surrounds her privately managed email while Secretary of State.
The others-first approach opening this campaign contrasts clearly with 2008, a campaign which, critics said, suggested Clinton felt entitled.
On the other hand, this time, she has shown signs she will not play down how her being a woman differentiates her from the 44 men who won the US presidency, as she takes another crack at the ceiling.