French debate new legal tools against Internet terrorism and hackers
Comments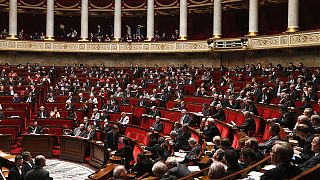 France has begun debating a new law that will give its intelligence services extensive powers to track suspected Islamists and so-called foreign fighters.
The bill would require Internet service providers to monitor suspicious behaviour potentially linked to terrorism.
The government says it has been forced to take drastic action in the wake of the Charlie Hebdo attacks in which 17 people were killed by three gunmen in Paris.
French Prime Minister Manuel Valls addressed the Assemblée Nationale: "Concerning the freedom of information: the terrorist threat – need I remind you – is today the most daunting challenge we will have to face for a very long time. Each of us must realise that. We're not fear-mongering but we need to be clear-headed and to tell our fellow citizens clearly."
The debate comes hot on the heels of last week's hacker attack of French-language broadcaster TV5Monde. Its global programming and websites were disrupted for a day and may need extensive revision.
The government confirmed the hackers' claim they were allied with the militant group Islamic State.
France is part of the international military coalition fighting the group in Iraq.