Nationwide demonstrations call for Brazil's president to be sacked
Comments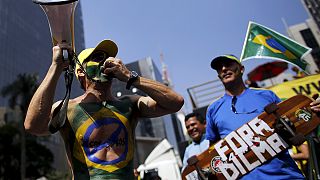 There have been more demonstrations in major cities across Brazil all calling for the impeachment of President Dilma Rousseff.
Protesters are angry as a corruption investigation involving the country's largest company, oil giant Petrobras, grows ever wider.
The probe has already implicated dozens of construction companies and politicians, the majority of them from Rousseff's Workers' Party.
"Dilma has been in power since Lulas government, in charge of Petrobras, after she became president. She knew all, she and Lula knew what was going on," said one protester.
"If Brazil stops the corruption, this nation could be the best place in the world to live. With corruption, it is impossible. Corrupt politicians actually invest more money abroad than in Brazil," added another.
Coupled with a stalling economy, a sliding currency and political infighting, critics say Rousseff's second term is looking decidedly shaky.
Reporting for euronews in Rio Emiliano Guanella said:
"These demonstrations are set to continue. The next one is to be held in May. It means there is mounting pressure on the government which is already struggling."