Orthodox Easter takes on additional meaning for debt-ridden Greece
Comments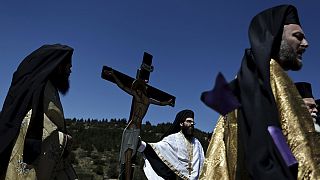 Greek Prime Minister Alexis Tsipras has joined worshippers celebrating Orthodox Easter in Athens.
Like Orthodox Christians across the world, Greeks are now marking events they believe led to the crucifixion, burial and resurrection of Christ.
In a sombre procession, a symbolic tomb of Jesus is carried through the streets, in the shadow of parliament, with the debt-ridden country's contemporary woes never far away.
"We have been through a lot," one woman told euronews.
"This is a symbolic day. If we have faith, we can make it. We must give a chance to our new government," she added, stressing that
foreign partners must give Greece a chance, too.
"I feel that everything will be fine," she said.
But life remains difficult with Greece struggling to emerge from years of recession.
Our correspondent in Athens, Apostolos Staikos, said:
"At Easter, Orthodox Christians experience great sadness and joy, crucifixion and resurrection. But the economic crisis has added a
new dimension to this religious event. In recent years, the Greeks feel that they have experienced only crucifixion, while waiting for a resurrection that never comes."