Obama and Castro make history with US-Cuba talks
Comments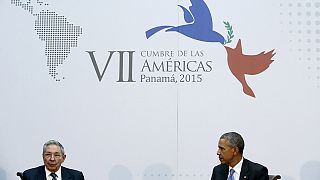 Presidents Barack Obama and Raul Castro have held the first formal face to face talks between leaders of the United States and Cuba in more than half a century.
Meeting on the sidelines of a summit in Panama, Obama said they could end the antagonism of the Cold War years. Castro said he was open to discussing human rights and other issues.
Earlier though, while praising his US counterpart in a lengthy speech, Castro cast a critical eye at decades of hostility.
"I see as a positive step his recent statements that he will quickly decide to remove Cuba from a list of countries that sponsor terrorism – on which we should never have been included," Castro said.
He also condemned the United States for its attempts to topple communist rule on Cuba.
Obama, described as 'an honest man' by the Cuban leader, confronted past US policy in Latin America.
"I am the first one to acknowledge that America's application of concern around human rights has not always been consistent," he told the first plenary session of the Summit of the Americas.
"And I'm certainly mindful that there are dark chapters in our own history in which we have not observed the principles and ideals upon which the country was founded."
Obama added: "America never makes a claim about being perfect. We do make a claim about being open to change."
Symbolism at this summit of leaders of the Americas follows concrete steps already taken to end hostilities.
But Obama knows that the US trade embargo against Cuba can only be lifted by the Republican-controlled Congress.