Funeral held for Walter Scott in South Carolina
Comments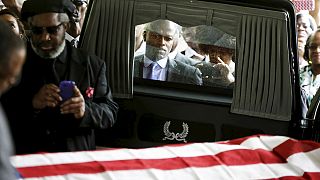 The funeral of Walter Scott has been held in Summerville, South Carolina.
The 50-year-old African-American was shot eight times last week as he ran away from a police officer.
It's claimed the father of four may have fled over fears he would be sent to jail over unpaid child support payments.
The shooting was caught on video and has re-ignited the long-running debate about the use of police force.
"It's a senseless tragedy. You know it is something that could have been avoided. I know for a fact that cops are taught at the academy, when somebody runs away from you, you do not shoot them, unless somebody's else's life is in jeopardy," said family friend., Carla Justice.
After the video of the incident emerged protesters held rallies in North Charleston chanting, "no justice, no peace" and an all night vigil was held.
Authorities were quick to act. Michael Slager, the officer who fired the gun has been charged with murder and is being held in jail without bail. He was sacked from the force.
Heavy rain during #WalterScott funeral in Summerville CynthiaRoldan</a> <a href="https://twitter.com/StillTheLG">StillTheLGhttp://t.co/7WH733gCXwpic.twitter.com/y6DEJhmZEs

— The Post and Courier (@postandcourier) April 11, 2015
Charles Dash came all the way from NYC to be here for #WalterScott's funeral. Said he felt compelled by God to come. pic.twitter.com/X8Meyh9sKf

— Deanna Pan (@DDpan) April 11, 2015
At the site by Rivers Ave. where #WalterScott was killed. People have brought flowers and flags to honor his memory. pic.twitter.com/o5jrY6SYYF

— Deanna Pan (@DDpan) April 11, 2015