Orthodox Christians mark Good Friday across Middle East
Comments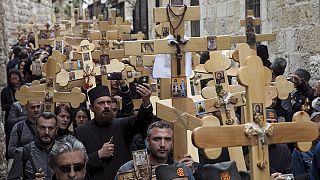 Orthodox Christians have marked Good Friday in Jerusalem's Old City by retracing what they believe was the route Jesus Christ took to his crucifixion. .
Christians and Muslims always celebrate together...this is a holiday that truly unites everybody.
"This is very special for me because I am Orthodox Christian and I have come from the United States," said tourist
Pauline Snell. "All my life I wanted to come to the Holy Land and I have a opportunity to come this year. And so I am very emotional about being in the actual holy location of Christ's footsteps."
In Gaza City, worshipers attended mass in one of just two churches in the Palestinian territory.
The Easter holiday, Sham El-Nessim (smelling the breeze), is also often celebrated by everybody in Egypt not just Christians. Most of the country's Christians are Coptic Orthodox.
"The best thing about it [Easter] is that it's something everybody in the country shares," said Lauret. "Christians and Muslims always celebrate together…this is a holiday that truly unites everybody. We all get the day off."