Crucial medical aid arrives in Yemen
Comments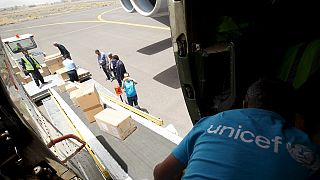 Two planes carrying emergency medical aid have landed in the Yemen capital Sana'a. The delivery of 16 tonnes of supplies is the first international aid to have made it into the country by air since fighting escalated three weeks ago.
The conflict is taking a heavy toll on civilians. The World Health Organisation estimates that more than 600 people have been killed so far.
"We have a surgical team as well arrived in Aden and now our work will be to distribute this assistance within the country," said Cedric Schweizer, head of the International Committee of the Red Cross delegation in Sana'a. "We have contact with all parties in Yemen involved in the conflict and we got security guarantees to be able to distribute this assistance all over the country," he added.
Many are attempting to flee but they have been hampered by fuel shortages and those who remain must struggle with the scarcity of food and water.
There is no let-up in the fighting. A car bomb exploded outside a building used by Houthi militia, killing at least seven people and wounding dozens more.
The security situation deteriorated rapidly last month when Houthi rebels advanced on targets in Sana'a and Aden forcing the president to flee the country.