Germanwings to sue woman who claimed to be a grieving relative
Comments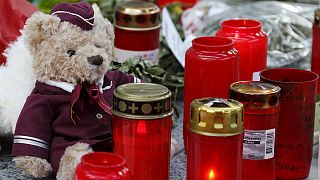 Germanwings parent company Lufthansa is considering taking legal action against a woman it says took several free flights from Germany to southern France.
The airline says she pretended to be the cousin of a school teacher who died on board the plane that crashed into the French Alps.
German newspapers accused the woman of inventing a "false family."
She reportedly brought three people with her on two trips at Lufthansa's expense. The airline says she visited the crash site and even accepted psychological counselling.
Meanwhile doctors working for the German aviation industry are suggesting that pilots should undergo more extensive medical checks in the wake of the tragedy.
"We would like a lot more laboratory findings, especially liver function readings, sugar levels and blood fat levels (…) to detect liver damages and discover prescription drug abuse, alcohol or drug abuse at an early stage and then fight it," said head of the Aviation Medicine Association, Dr Hans-Werner Teichmueller.
The current annual check-up for pilots only includes urine tests, and checks for haemoglobin and sometimes blood sugar.