Debate over sentence of Boston bomber Dzhokhar Tsarnaev
Comments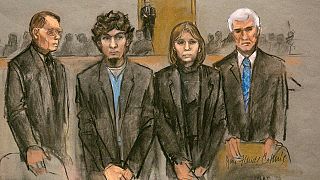 A guilty verdict by a US court in the trial of the man accused of the 2013 Boston Marathon bombing has produced relief in some and mixed feelings in others over his sentence.
Twenty-one-year-old Dzhokhar Tsarnaev was convicted of all 30 charges that he faced , many of which carry the death penalty.
JimArmstrongWBZ</a> reporting <a href="https://twitter.com/hashtag/Tsarnaev?src=hash">#Tsarnaev</a> didn&#39;t show any emotion &quot;like any other day&quot; but he glimpsed at jurors. <a href="https://twitter.com/hashtag/wbz?src=hash">#wbz</a></p>&mdash; Chris McKinnon (chrisWBZ) April 8, 2015
After the verdict, Karen Brassard, a survivor of the bombing, gave her reaction:
"We are all going to move on with our lives and we are all going to get back to some sense of normality, hopefully, when this is all done. So, closure, I guess I don't think so , only because it's forever part of our lives."
Euronews spoke to others, asking them what they thought of the verdict:
"I think the right decision was reached. The guy is guilty as hell. And as far as where the trial proceeds from here.. I don-t know if I have an opinion on the death sentence yet, but the guy obviously deserves either life imprisonment or to die," said one man.
One poll released by Boston's NPR news station WBUR in March showed 62% would favour life in prison for Tsarnaev, while 27% favoured execution.
Boston Cardinal Sean O'Malley and Massachusetts Roman Catholic Bishops said this week in a statement that it would be against the teachings of the Church to execute Tsarnaev.
Dzhokhar Tsarnaev is the surviving member of a pair of ethnic Chechen brothers who planted homemade pressure-cooker bombs at the finish line of the celebrated race. Three people were killed and 264 others injured. A policeman died later in the hunt for the culprits.
Victims :
Restaurant manager Krystle Campbell, 29
Chinese exchange student Lingzi Lu, 23
Martin Richard, 8
Police officer Sean Collier, 26, was shot dead
Reporting for euronews, Isabelle Kumar said:
"The sentencing phase of the trial could begin as early as next week for the worst attack on US soil since 9/11. The jury deciding whether Dzhokhar Tsarnaev will face life behind bars or the death penalty."