Jewels 'worth millions' stolen from London's diamond district
Comments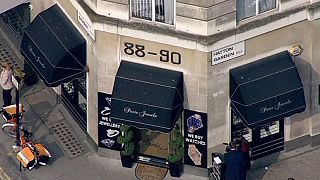 A London jeweller said there was a "big chance" that diamonds worth millions of euros were snatched by thieves from a vault in the city over the weekend.
Muhammad Almaf said he was not the only one living in fear of having valuable items stolen.
"It's a big shock – not only for me – for the whole people who (are) here actually," said Almaf. "Because you cannot expect such a thing to happen in such a secure place actually."
Heavy cutting equipment is thought to have been used to break into a vault containing safety deposit boxes in Hatton Garden, considered London's diamond district.
The same area was hit in 1987 when armed robbers made off with around 80 million euros' worth of jewels.