Gabon to host the 2017 Africa Cup of Nations
Comments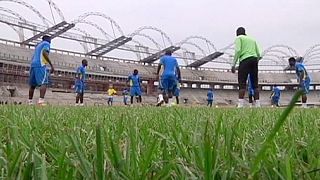 The Confederation of African Football has handed the 2017 Africa Cup of Nations to Gabon after beating off the challenges of Algeria and Ghana.
Gabon replaces war-torn Libya as host nation after Tripoli withdrew last year because of the civil conflict raging in the country.
Gabon will use four venues for the 16-team tournament, set for January 2017: Libreville and Franceville plus Port Gentil and Oyem, where the stadiums will be ready in 14 months, according to the Gabon Football Federation.
The draw for the 2017 African Nations Cup qualifiers is as follows.
Group A: Djibouti, Liberia, Togo, Tunisia
Group B: Angola, Central African Republic, Democratic Republic of Congo, Madagascar
Group C: Benin, Equatorial Guinea, Mali, South Sudan
Group D: Botswana, Burkina Faso, Comoros Islands, Uganda
Group E: Congo, Guinea-Bissau, Kenya, Zambia
Group F: Cape Verde Islands, Libya, Morocco, Sao Tome e Principe
Group G: Chad, Egypt, Nigeria, Tanzania
Group H: Ghana, Mauritius, Mozambique, Rwanda
Group I: Gabon (hosts)*, Ivory Coast (holders), Sierra Leone, Sudan
Group J: Algeria, Ethiopia, Lesotho, Seychelles
Group K: Burundi, Namibia, Niger, Senegal
Group L: Guinea, Malawi, Swaziland, Zimbabwe
Group M: Cameroon, Gambia, Mauritania, South Africa