Political accusations fly over record Californian drought
Comments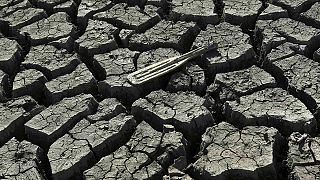 A record drought in California is under the political spotlight, with a likely Republican presidential contender hitting out at environmentalists.
Carly Fiorina has reacted to unprecedented water restrictions announced last week by the governor of the state, Democrat Jerry Brown.
Fiorina calls the drought a "man-made disaster", caused by what she calls liberal environmentalists who have blocked the building of a new reservoir, as well as water conveyance systems.
She claims 70 percent of California's rainfall is going to waste.
New restrictions aim to reduce water use by 25 percent.
Long Beach resident Gina Christopher said:
"You have to, I mean I'm being restricted from toilet usage to watering the grass, limiting it to 5 to 10 minutes compared to the average of watering with a glass of wine outside for 15 minutes. Those days are done you can not do that anymore."
Millions of square metres of lawns across the state are being replaced with drought tolerant landscaping.
And golf clubs, for example, have begun to use recycled water, as well as reducing their grassed areas.