Turkey suspends top football fixtures after Fenerbahçe bus attack
Comments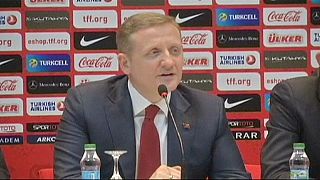 The Turkish Football Federation has suspended top division league and cup matches for a week after a gunman shot at the Fenerbahçe team bus on Saturday night.
This is not an attack against football, this is an attack against Turkey
It followed a meeting with the country's sports minister. The bus was shot at as the Istanbul team were returning from an away match against Çaykur Rizespor.
The attack happened as the coach was heading for Trabzon airport in northeastern Turkey for a flight home. The bus driver, Ufuk Kıran, was wounded and taken to hospital where he is said to be recovering quickly.
"We suspended the league because we believe that the incident was a terrorist attack. We also considered the psychology of the players," Federation chairman Yildirim Demiroren told a news conference in Istanbul.
Approving the suspension, the President of the Turkish Union of Clubs, Gok Sel Gumusdag said: "None of us wants to go to a stadium to watch a game and the players are not willing to appear on the pitch, and and member clubs agreed to extend their support."
Defending champions Fenerbahçe are currently second in the Turkish SuperLig, having briefly gone top after their 5-1 win at Rizespor.
In a strongly worded statement on the Fenerbahçe website, the club described the event as "an organized and designed armed attack and an attempt of assassination".
Deniz Tolga Aytore, a club executive, described the attack as "an attempt to kill 41 people on the bus, including 19 players".
The coach had reportedly been crossing an aqueduct when the shots were fired. After the driver was hit, the club's head of security is said to have applied the brakes to stop the bus from going over the side.
The club had already announced its withdrawal from all competitions before the league and cup suspension was announced.
On the streets of Istanbul there was some disagreement with the decision.
"I don't think (a suspension) will be a solution. I believe that there might be other incidents," said Fenerbahçe fan Soner Yildiz.
"This is not an attack against football, this is an attack against Turkey but will suspending the league for a week mean anything? If so why not suspend it for two weeks," said another man, Bahri Kabadayi.
Hours after the attack the shaken players returned to Istanbul to a heroes' welcome.
The bus had been passing through Trabzon, home to Fenerbahçe's firm rivals Trabzonspor, where it is claimed there have been previous attacks on the Istanbul team.
Bad feeling between the two clubs has been exacerbated since Fenerbahçe was implicated in a match-fixing scandal in 2011, and Trabzonspor asked – and failed – to be awarded the domestic trophy.
Both clubs are banned from taking away fans when they play each other, and a match in Trabzon last season was abandoned following crowd violence.