Rio de Janeiro: Protesters stage mock burial over killings in city's shantytowns
Comments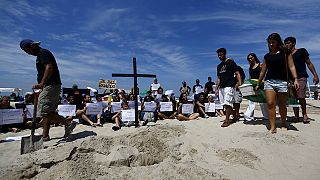 Dozens of people have taken part in a march and symbolic burial in Rio de Janeiro, to protest against violence in the city's shantytowns.
It comes after a ten-year-old boy was killed last week, during a police operation targeting suspected drug traffickers in the Alemao favela complex.
It was the fourth death in the community in 24 hours.
"(I'm here to demand) those governing (the country) – to ask the police officers to put down their weapons against civilians. The good people, the children, the population deserves respect," said one demonstrator.
Protesters held banners with the name of the boy killed last week, Eduardo de Jesus Ferreira, as they took part in the symbolic burial ceremony on Copacabana beach.
They also highlighted other child killings over the past eight years.
In the wake of days of protests, some of them angry, Rio's governor has reportedly said that military police will now be sent to the Alemao.complex.