Brazilian police in deadly drug shootouts draw fire from NGOs
Comments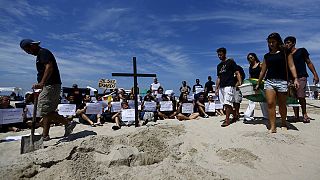 A symbolic empty coffin buried at Copacabana beach in Rio de Janeiro, Brazil, for a boy named Eduardo, represents the latest child death in gunfire between the police and drug dealers in the city's shanty towns.
Since 2007, 18 children have been collateral victims.
At the head of NGO Rio of Peace, among the grassroots organisations protesting, Antonio Costa said: "The middle class don't often raise an outcry over the killing and human rights violations in the favelas. We want to change the culture in our city. A boy was killed this week. We cannot stay silent!"
The family of ten-year-old Eduardo de Jesus Ferreira says he was hit by a bullet in the head outside his home in the Alemao favela, in the north of Rio.
The Rio State Government covered the cost of his funeral, and Brazil's President Dilma Rousseff has promised to investigate the tragedy.
Stray bullets also killed three other people in Alemao in 24 hours.
Thousands of Rio's poor took to the streets in outrage the following day. Police responded forcefully.
Amnesty International said it was time to end militarised policing.
The Pacifying Police Unit (UPP) said local criminals had shot at them on the day the deaths occurred. The UPP started patrolling Alemao in 2012, to counter drug traffickers. Some 40 UPP units are deployed in more than 260 favelas. They are largely controlled by the traffickers, and more than a million and a half people live in them.
Local photographer Betinho Casas Novas, who works for the Community Voice newspaper, said:
"The social issue is not with the military police, who deal with security. The social issue is with the government. The government has to invest socially, in urbanisation. It has stopped doing that, stopped with basic sanitation. Health is precarious. We need all that, that's how the government can 'conquer' the community."
Less than one year after Brazil hosted the World Cup football event, at great expense, the country is ploughing resources into preparing to host the 2016 Olympic Games. Maintaining law and order remains among the top priorities.