Scientists hail 'success' as Hadron Collider resumes search for dark universe
Comments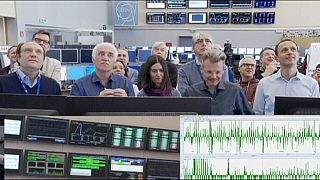 There was jubilation among scientists at Europe's physics research centre CERN as efforts to unlock the mysteries of the universe resumed.
The Large Hadron Collider (LHC), the world's largest machine, is up and running again after a two-year revamp.
Particle collisions – simulations of conditions surrounding the Big Bang – will begin in due course.
For now scientists at the centre near Geneva are pleased with initial progress.
"Now we have just managed to do the first turn with the anti-clockwise beam, the beam 2. We have been striding the beam all along the ring and we managed to keep it for 25 turns already without the RF capture, so this is already a big success," said Laurette Ponce, the engineer in charge of the LHC.
It's hoped the revamped collider will produce evidence of what has been called "New Physics".
That includes "dark matter", the invisible web holding all visible matter together.
The machine's first run produced proof of the so-called "God particle", the Higgs Boson.
But it could be a year before any new results can be expected.