Revamped Large Hadron Collider restarts - on course to smash physics records
Comments
By
Euronews
with
CERN, Business Insider, Reuters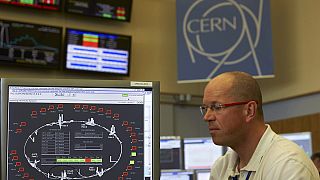 It could change physics forever.
The revamped Large Hadron Collider (LHC) has restarted after a two-year hiatus.
Described in Business Insider as a "monstrous underground atom smasher," the LHC is the world's largest and most-powerful particle collider.
Dark matter? Extra dimensions? What will the Large Hadron Collider discover? Full beams due tomorrow morning #LHCpic.twitter.com/142LtU7b8s

— David Shukman (@davidshukmanbbc) April 4, 2015
It hurls particles at almost light speed and has already revolutionised physics with the discovery of the Higgs Boson.
Higgs Boson's ability to give mass to most elementary particles has earned it the nickname the 'God particle,' as Rudiger Voss, Head of International Relations at CERN (European Organization for Nuclear Research), explained:
"Without the Higgs field, there would be no atoms, there would be no nuclei, there would be no molecules, which are the fundamental building blocks for matter," he said. "Therefore, there would also be no stars, there would be no galaxy, there would be no planetary system, there would be no earth and eventually there would be no life on earth."
The LHC's entire ventilation system and over 100 kilometres of cable have been replaced, meaning it is expected to run faster than ever and is predicted to reach its highest collision energy by June 2015.
It is on course to smash all records and potentially solve some of the biggest mysteries in physics.
#Incredible fact of the day:11,245 is the number of circuits a proton does per second in the #LargeHadronColliderpic.twitter.com/1DnbGqp2Nl

— Newsflicks (@newsflicks) April 5, 2015