Marathon des Sables celebrates its 30th birthday
Comments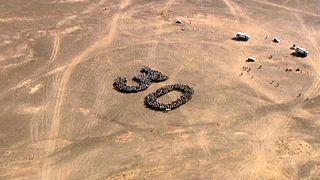 There were celebrations for a 30th birthday in the desert. But it was no play time in the sand. It was the start of what has often been called,"the toughest foot race on earth". Six days across 250 kilometres of the Moroccan Sahara under a scorching north African sun.
The Marathon des Sables to give the race its official title started back in 1986 with just 23 runners. Three decades and 13,000 competitors later and almost 1,400 competitors from around 50 countries started out on the first of the five stage race.
Defending champion and double winner Rachid El Morabity ran the 36.2 kilometres opening stage in two hours 52 minutes and 50 seconds to cross the line first.