Gun attack on Turkish football team bus
Comments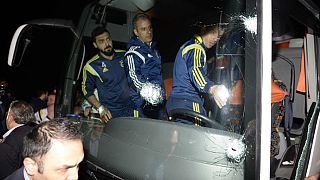 Turkish Super Lig leaders Fenerbahce's team bus was shot at by a gunman after their 5-1 victory over Rizespor on Saturday.
The driver was taken to hospital but no players were injured in the attack, which happened while they were travelling to Trabzon airport.
The Turkish Football Federation condemned the attack and Fenerbahce General Secretary, Mahmut Uslu, said the incident was "very wrong".
"This was an attack aiming to kill or injure the driver….the driver was the one they shot at. But the bus was passing over a viaduct. They wanted this coach to be smashed and they wanted to see the footballers dead."
Large crowds of Fenerbahce fans were waiting at Istanbul airport to welcome the players back.
Prime Minister Ahmet Davutoglu said an investigation in to the incident is underway.