[Watch] 50 families displaced as India experiences devastating tornado
Comments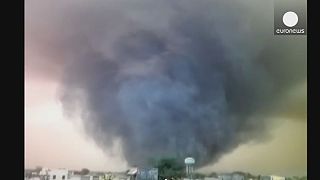 A dust-filled tornado swept across Biggabas, Ramsara in India on March 15, leaving a trail of destruction which cut power to the entire village.
Local reports also stated that 50 families had been displaced and the village's train station had been damaged.
The tornado was unexpected as events of this kind are more common in eastern parts of India and Bangladesh, whereas Biggabas is located in the north of the country.