Portugal pays final tribute to Manoel de Oliveira
Comments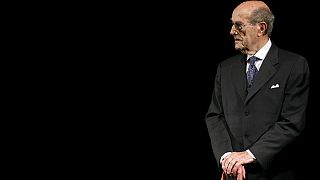 Portugal paid its final tribute to Manoel de Oliveira, believed to have been the world's oldest film director.
Portuguese culture lost one of its most important figures today.
His death, at the age of 106 sparked a wave of emotion in movie circles.
The legendary filmmaker was buried in the family vault in Porto, his birthplace in northern Portugal in the presence of John Malkovitch, one of his favourite actors.
The city declared three days of mourning.
The hearse covered with wreaths of white and yellow flowers, was greeted at the cemetery by the applause of hundreds of fans of the director.
The award-winning director made more than 50 films, including features and documentaries, over the course of a career that began in 1931.
And despite his fragile health, he completed his last work, a short film, only last year.
De Oliveira had previously spoken about death during an interview with euronews.
"In the novel War and Peace by Tolstoy, there is an aristocrat who is injured and dying. He worries, he wants to know what will happen and he sees a door. And he says 'death is a door,' a door that nobody wants to go through."
"Portuguese culture lost one of its most important figures today," said Prime Minister Pedro Passos Coelho as tributes poured in.
Cinema will remember Manoel de Oliveira as one of its most brilliant and prolific talents.