Portuguese movie-maker Manoel de Oliveira dies, aged 106
Comments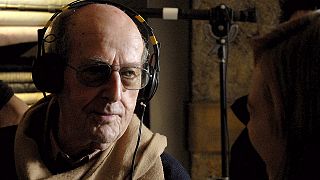 Celebrated Portuguese film director Manoel de Oliveira has died, aged 106.
He was the last active director who had kicked off his career in silent pictures.
De Oliveira's last movie, "The Old Man of Belem," premiered last December.
He won acclaim far beyond Portugual and was an annual fixture at Europe's top festivals.
De Oliveira had talked about death during an interview with euronews.
"In the novel War and Peace by Tolstoy, there is an aristocrat who is injured and dying. He worries, he wants to know what will happen and he sees a door. And he says 'death is a door,' a door that nobody wants to go through," he said.
Manoel de Oliveira died at home in his native Porto, in northern Portugal.