International equilibrium finally found for Iranian nuclear development
Comments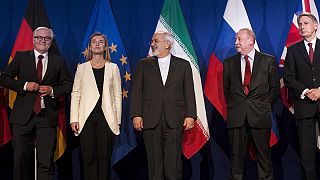 World powers and Iranian negotiators managed at long last to agree on a framework for the continuation of Tehran's nuclear development programme. France 2.
It played out on the fringes of a quiet lake in Switzerland, centre of the world for these few days, in terms of the diplomatic effort to strike a deal after such a long time trying. Swiss RTS.
John Kerry handled the American side of the negotiations. President Obama welcomes the agreement even knowing he will have to weather criticism in Congress and from ally Israel. Spanish TVE.
Iran has been on the international penalty bench for decades, so Foreign Minister Javad Zarif was hailed as a hero in Tehran. Swiss RSI summarises the years leading up to this.