Russian air sea rescue in hunt for missing sailors after trawler sinks with 132 on board
Comments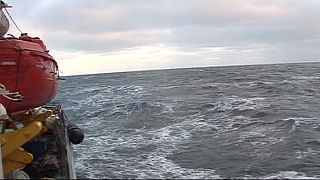 Air sea rescue services are continuing the search for 15 missing sailors after a Russian trawler sank off the Kamchatka peninsula.
The Dalniy Vostok went down in freezing waters with 132 people on board. Fifty-four have been confirmed dead and 63 rescued.
The search for survivors is being carried out on water and in the air.
Timur Tedeyev is involved in the search and rescue:"There is a rescue operation going on in the Okhotsk sea, where the trawler Dalniy Vostok went down. At this moment more than 14 vessels are involved in rescue operation. There were 132 people on the trawler."
It is unclear why the vessel sank, Russian authorities suggest ice penetrated the hull while TASS quotes a local official who alleges the trawler was overloaded.