Manoel de Oliveira: A long and successful movie-making career
Comments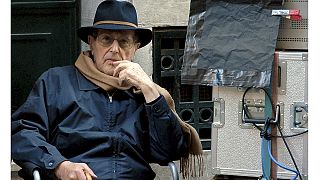 Celebrated Portuguese film director Manoel de Oliveira has died, aged 106. He was believed to be the world's oldest movie-maker.
Born in Porto on 12 December 1908, the young Manoel's first love was sport. Athletics, swimming, motor-racing, he excelled at them all. But cinema came calling and he started acting at the age of 19.
His best role was in 1933's "The Song of Lisbon," the first Portuguese talkie. At the same time, he was studying comedy and directed his first short film.
At the same time, he met and married Isabel and they had four children.
Then, in 1942, he directed his first full-length movie "Aniki Bobo," a vision of Porto through the eyes of its children. It was not well-received by the critics.
With Portugal on its knees after the Second World War, 14 years passed before de Oliveira could get back to work.
But then, he was unstoppable, directing stars like Catherine Deneuve and John Malkovich. From 1990, he made at least one film per year.
In May 2008, de Oliveira was enjoying Cannes, where the film festival would recognise the lifetime achievements of the world's oldest working director – a man who had known the silent movie era.
He accepted his Palme d'Or with characteristic humour.
"I am very touched by this, to have finally received a Palme d'Or," he said.
De Oliveira repeated his mantra "if you stop, you die" to euronews on the eve of his 100th birthday.
"A Mexican director once said 'Cinema is the mirror of life.' Cinema reflects life. It is the only mirror of life. And as well as being the mirror of life, it is the memory of life itself," he added when euronews reporter Marco Lemos asked for his view of cinema…
Cinema will remember Manoel de Oliveira as one of its most brilliant and prolific figures.